Saturday, May 12, 2018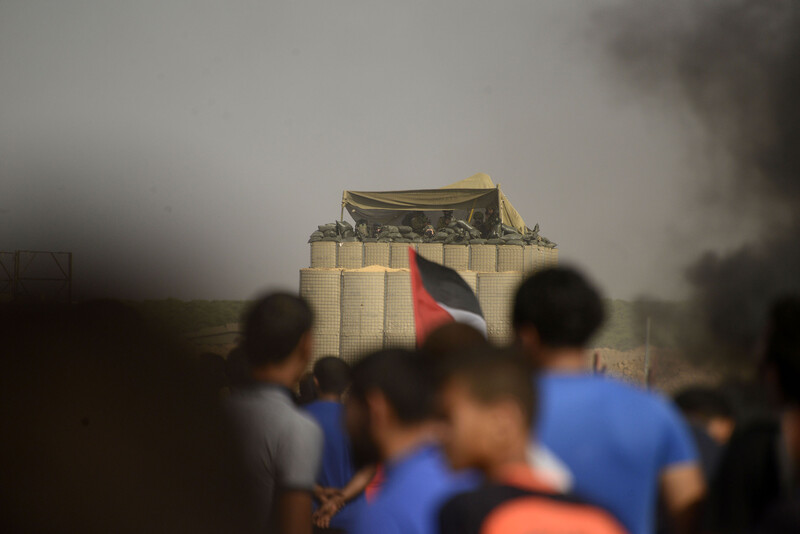 Israeli soldiers are seen during Great March of Return protests east of Gaza City on 11 May.
Mohammed Zaanoun
ActiveStills
Maureen Clare Murphy
-
11 May 2018
During that same period, Israeli forces killed 13 additional Palestinians in Gaza who were not participating in the protests when they were fatally wounded.
Three medics and six journalists were also reported injured.
Mass protests are expected to continue next week with the opening of the US embassy of Jerusalem on 14 May, the 70th anniversary of the declaration of the state of Israel on Palestinian lands.
"According to assessments, 100,000 protesters are expected in 17 flashpoints along the Gaza [boundary], compared to the five flashpoints during last Friday's protest," the paper stated on Friday.
Two-thirds of Gaza's population of two million are refugees from the lands on which the state of Israel was declared in 1948. Israel has long prevented Palestinian refugees from returning to their lands and homes because they are not Jewish.
Three Palestinian human rights groups are calling on diplomats and United Nations officials to boycott the opening of the Jerusalem embassy.
"The longest unresolved question to fall under the responsibility of the UN, Palestine has become a litmus test for the efficacy of the international system as a whole and the willingness of the international community to abide by the rule of law and act in the face of widespread and systematic violations of international human rights and humanitarian law," the groups add.
The Palestinian Human Rights Organizations Council called on the Palestinian Authority to "immediately cease cooperating with the US as an arbiter for peace" and for states to halt aid to Israel and impose sanctions until it "ends its annexation and unlawful prolonged occupation of the Palestinian territory, ceases all breaches of international law, and ensures justice and accountability."
Israel's shooting of unarmed protesters in Gaza was meanwhile raised at the 95th session of the UN Committee on the Elimination of Racial Discrimination that convened over the past two and a half weeks.
In a statement issued under its early warning and urgent action procedures, intended to prevent and respond to violations of the International Convention Against All Forms of Racial Discrimination, the body expressed its grave concern that many protesters were killed or injured when they posed no imminent threat.
The body called for "an immediate end to the disproportionate use of force against Palestinian demonstrators," lifting the blockade on Gaza and the implementation of appropriate measures "to combat the proliferation of racist acts and manifestations of racist hate speech that particularly target Palestinians in the territories under [Israel's] effective control."