Tuesday, January 31, 2012

[TamilNet, Wednesday, 01 February 2012, 01:48 GMT]
Sri Wikrama Rajasinghe alias Ka'n'nuch-chaami, the last king of Kandy, from whom the British captured the sovereignty of the last remaining kingdom in the island then called Ceylon, was remembered by his heirs and relatives in Tamil Nadu at his memorial in Ve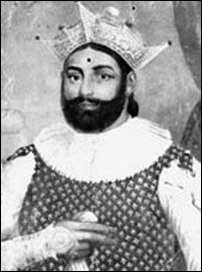 aloor (Vellore) in Tamil Nadu on his 181st death anniversary on Monday. Those who claim and
uphold 'uni

t remaining in the island, just because he was belonging to the Mathurai Naayakka dynasty of Tamil-Telugu origin. This is a small, but revealing example on the attitude of the sovereignty claim of the Sinhala state of Sri Lanka, showing why the sovereignty of genocide-affected Eezham Tamils in the island should never be vested into the hands of this state, commented an academic in Jaffna. tary' sovereignty over the entire island today never care for the king, who fought against colonialism for native sovereignty las
The paintings of the King and Queen made by a British Army officer before they were take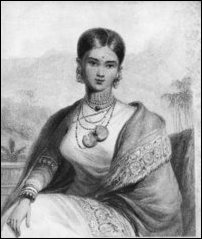 In 1815, the invading British captured Sri Wikrama Rajasinghe and his queen after a brutal war. Later, the chieftains of Kandy signed a treaty with the invaders, agreeing for the transfer of sovereignty to the British
Crown.
The Royal family was then taken to India and was imprisoned at the Fort of Vealoor (Vellore) in Tamil Nadu. The Vellore fort was also once belonging to the dynasty of Wikrama Rajasinghe, originating from the Vijayanagara Empire.
The king died on 30 January 1832, at Vellore and was buried at the bed of the river Paalaa'ru, nearby. His queen Saaviththiri Devi and children were also buried at the same place after their death later.
The crown, throne and other royal regalia taken by the British to London were later returned to Ceylon and they are now in the display of Colombo Museum. The personal items used by the imprisoned king, such as his dice-game set etc., could be found in the Tamil Nadu State museum at Vellore.
The birth name of the king was Ka'n'nuch-chaami. Another contender for the throne of Kandy from the same family, by the name Muththuch-chaami, was patronized by the British who kept him in Va'n'naar-pa'n'nai in Jaffna in the locality where the Kilner Building stands now. The British who wanted to appease Wikrama Rajasinghe after their defeat in an earlier war, presented him the head of Muththuch-chaami on a platter.
The story of Wikrama Rajasinghe became folklore in Tamil in the 19th century itself. Early plays by the name of Ka'ndi Raajan Kathai, and in the form of Kooththu theatre, were composed and performed at Mathurai in Tamil Nadu as early as in the late 19th century.
However, in Sinhala historiography, the English version that Wikrama Rajasinghe was a tyrant became easily accepted and the highlight was the king brutally torturing and killing the family of a Sinhala chieftain for treason.
The English historiography found it convenient to justify the transfer of sovereignty, citing tyranny of the Naayakka king on the Kandyans.
But in our times today, the powers of new imperialism contesting for the island and the international system such as the UN, find it convenient to cite at 'Sri Lankan sovereignty' in allowing even genocide of a nation.
Mahinda Rajapaksa, who never hesitated to commit genocide of Eezham Tamils, justifies all his actions in the name of 'Sri Lankan sovereignty' and he is the hero of the 'Mahavamsa' he is composing.
The international polity of the New World Order seems to have 'matured' enough in making no pretensions over proclaiming shamelessly that 'sovereignty' is not a people's right to protect their nation, the academic in Jaffna commented.