Monday, July 10, 2017
President's son tweets he is 'happy' to provide information on meeting with Russian lawyer who promised damaging information about Hillary Clinton
The revelation that Donald Trump Jr attended a meeting with a Russian lawyer is the first public evidence that members of the Trump campaign were willing to accept Russian assistance. Photograph: Shawn Thew/EPA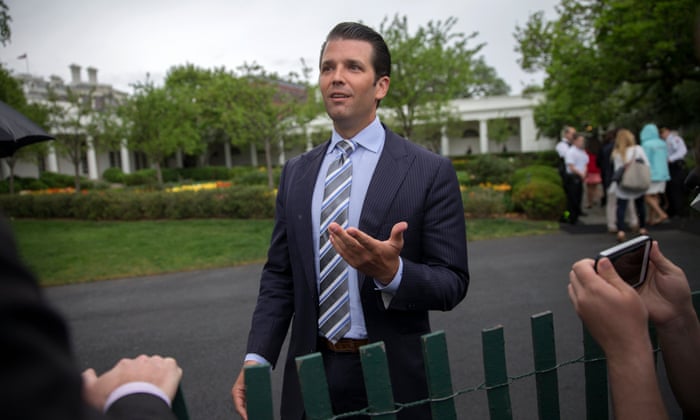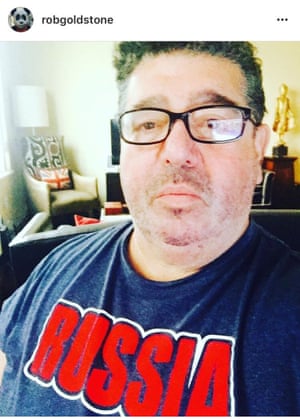 An image from Rob Goldstone's Instagram account, posted after Trump's election victory, that has since been removed. Photograph: Instagram
David Smith
in Washington and
Jon Swaine
in New York-
Monday 10 July 2017
Donald Trump's son is facing calls to testify before the US Senate about his
meeting with a Russian lawyer who promised damaging information about Hillary Clinton
during last year's presidential election.
Trump Jr attended the meeting – allegedly brokered by a British music publicist – with Natalia Veselnitskaya, a lawyer who reportedly has ties to the Kremlin. Paul Manafort, who was the Trump campaign's chairman at the time, and Donald Trump's son-in-law, Jared Kushner, were also present.
The revelation, first reported by the New York Times, was the first public evidence that members of the Trump campaign were willing to accept Russian assistance. A senior Republican on the Senate intelligence committee demanded that Trump Jr appear on Capitol Hill and testify under oath.
Susan Collins of Maine told reporters that "our intelligence committee needs to interview him and others who attended the meeting" as part of its investigation into Russian interference in the presidential election. Adam Schiff, the top Democrat on the House intelligence committee, has made a similar demand.
Later Monday, Trump Jr
tweeted
: "Happy to work with the committee to pass on what I know".
At the White House press briefing on Monday, the spokeswoman Sarah Huckabee Sanders insisted "the only thing inappropriate" about Trump Jr's meeting was "the people who leaked" the details.
She added that she did not know of any other meetings about Trump Jr and Russian nationals and that Donald Trump had only learned of the meeting "in the last several days".
Reuters reported Monday that Alan Futerfas had been appointed Trump Jr's lawyer to represent him in the Russian investigations.
Alleged collusion between the Trump campaign and Moscow is also the subject of an investigation by a special counsel. The president,
who met his Russian counterpart, Vladimir Putin, for the first time last week
, has dismissed the claims as "fake news".
Trump Jr, one of his father's fiercest defenders on social media, has come under particular scrutiny as he appears to offer shifting explanations for the meeting. On Monday, the 39-year-old businessman tweeted sarcastically: "Obviously I'm the first person on a campaign to ever take a meeting to hear info about an opponent ... went nowhere but had to listen".
That appeared somewhat at odds with his first statement on Saturday when, confronted with a New York Times report of the June 2016 encounter at Trump Tower in New York, he omitted any mention of Clinton from his account of the meeting, saying the discussion focused on a defunct programme that had allowed American adoptions of Russian children.
Then, on Sunday, as the Times broke fresh details, Trump Jr admitted that after an exchange of pleasantries, Veselnitskaya told him that "she had information that individuals connected to
Russia
were funding the Democratic National Committee [DNC] and supporting Ms Clinton".
He added: "No details or supporting information was provided or even offered. It quickly became clear that she had no meaningful information."
He said he concluded that claims of information on Clinton had been a "pretext" for setting up the meeting to talk about adoptions, and that his father had been unaware of the meeting.
On Monday, he posted on Twitter: "No inconsistency in statements, meeting ended up being primarily about adoptions. In response to further Q's I simply provided more details."
Trump Jr also said he was approached about the meeting by an acquaintance from the 2013 Miss Universe pageant, which Trump owned at that time. He did not name the acquaintance, but Rob Goldstone, a British music publicist and former tabloid journalist, told the Associated Press that he set up the meeting on behalf of a client in Moscow named Emin Agalarov, the son of a Moscow-based developer who tried to partner with Trump in a hotel project.
Trump appeared in a music video with Agalarov in 2013 that featured several Miss Universe contestants. In November that year, Trump tweeted to Agalarov: "I had a great weekend with you and your family. You have done a FANTASTIC job. TRUMP TOWER-MOSCOW is next. EMIN was WOW!"
Goldstone's statement added that the Russian lawyer claimed she had information about alleged illegal campaign contributions to the DNC that she thought Trump Jr might find helpful. Trump Jr agreed to fit the meeting into a busy schedule.
Trump raised the hacking issue with Putin in their talks on the sidelines of the G20 meeting in Hamburg last week, but critics say he failed to press it sufficiently or confront Moscow with any meaningful punishment. The US president was forced to backtrack on a promise of a joint "cybersecurity unit" after it was widely derided.
The New York Times said the Trump Jr meeting was disclosed in recent days to government investigators when Kushner filed a revised version of a form needed to obtain a security clearance. Manafort also recently disclosed the meeting to congressional investigators, the paper said.
The role of Goldstone provided further intrigue. Hours after Trump's shock victory in the 2016 election, he posted a photograph to Instagram in which he wore a T-shirt with a large "RUSSIA" logo. He captioned the picture: "Hedging bets". After a Guardian reporter posted the picture to Twitter late on Sunday, it was erased from Goldstone's account and the account was locked from public view.
The music publicist has for several years shuttled between the US and Russia while representing Agalarov. According to his Instagram account, Goldstone has made at least 19 visits to Russia since the spring of 2013. In one post he described Moscow as his second home.
He has also made at least eight trips to Baku, the capital of the former Soviet state Azerbaijan, where his client Agalarov was born and retains a large fan base.
Goldstone's posts indicate that he was in Moscow 10 days before the 9 June meeting at Trump Tower, and then returned to spend most of that July in Russia and Azerbaijan. When Trump announced his campaign for the US presidency in June 2015, Goldstone claimed to have already been briefed on Trump's intentions during a meeting he and Agalarov enjoyed at Trump Tower the previous month, writing: "He talked about his planned run for President of the USA – which became official today!"
The music publicist continued to support Trump's campaign. Around the time of the early presidential primary contests, he posed for a photograph in one of Trump's "Make America Great Again" red baseball caps, which Goldstone described as "My Iowa hat". In March 2016, Goldstone posted a photograph of himself, Agalarov and Trump "deep in discussion over dinner in Vegas".
Goldstone championed Putin in another Instagram post during the US presidential election. He posted a photograph of the Russian president featuring a quotation that was falsely attributed to the Russian president about killing terrorists. "Well said VVP", Goldstone said in his own caption, using Putin's initials.
In March, Trump Jr told the New York Times that he had never met Russians in a campaign capacity. Other senior figures have repeatedly said there were no contacts between the campaign and Russians.
On Monday, the White House vehemently denied that Trump Jr's meeting was improper. Kellyanne Conway insisted that "there's no evidence of collusion" between Trump Jr and Veselnitskaya. "No information was received that was meaningful or helpful and no action was taken," she said on ABC television's Good Morning America. "There was no follow-up whatsoever."
Mark Corallo, a spokesman for Trump's legal team, said: "The president was not aware of and did not attend the meeting."
Putin's spokesman, Dmitry Peskov, said on Monday the Kremlin did not know Veselnitskaya and "cannot keep track" of every Russian lawyer who holds meetings in Russia or abroad.