Monday, May 22, 2017
Two arrested with Kerala Ganja worth Rs. 50mn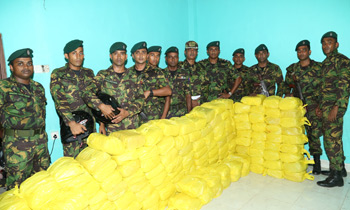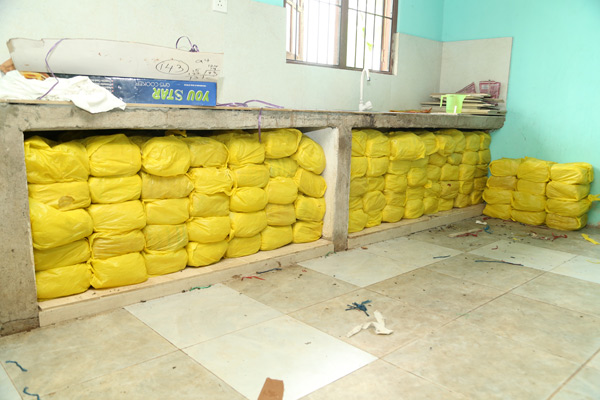 The Police Special Task Force arrested two suspects with 328 kilos of Kerala ganja valued at Rs. 50 million during a raid in Wellampitiya.

The consignment was seized when it was to be transported to another location from a house in Wellampitiya on Sunday night.
Two individuals, one who hid the ganja and the other who arrived at the site to transport the consignment, were arrested. A car at the premises was also taken into custody, police said.
The raid was carried out by a team from STF headquarters following a tip-off received to SI R.P.N.U Piyaratne. Chief Inspector N.C. Gadgadeera conducted the raid on the direction of ASP D.P.U Kodithuwakku and the instruction of STF commandant DIG M.R. Lateef.
The arrested suspects and the Kerala ganja were handed over to the Police Narcotic Bureau for further action.
Meanwhile, three other suspects were arrested by the STF in during another raid in Grandpass where a micro pistol was taken into custody.
(Darshana Sanjeewa)

May 22, 2017
The Customs Department of Mumbai caught a Sri Lankan national at the Mumbai International Airport and recovered from him 505 g of gold worth Rs. 1.49 million, some of which he had swallowed, while some concealed in his rectum, an official said.
The Sri Lankan national, Mohamed Faheem, was intercepted by the Air Intelligence Unit (AIU) of Mumbai Customs.
He was cleared from the Customs Green channel. However, on suspicion, when he was directed to pass through the door frame metal detector, it beeped giving indications of metals stored in his body. "He voluntarily ejected six cut pieces of gold weighing 205 g stored in his rectum," customs official said. The sleuths asked him to pass through the metal detector again, but it beeped again.
"Since the passenger was unable to eject it and as he had confessed that he had swallowed some pieces of gold before arriving to Mumbai from Sri Lanka, he was taken to a local hospital, where he was made to eject 300 g of gold," the officials said.
The officials added that it was a unique case since the passenger had swallowed 12 pieces of gold and also hidden 6 pieces in the rectum to hide from the Customs Department.
Official said that the doctors had a very tough time retrieving the gold from his stomach and that it took more than 48 hours to complete the procedure.
-Agencies