Monday, May 22, 2017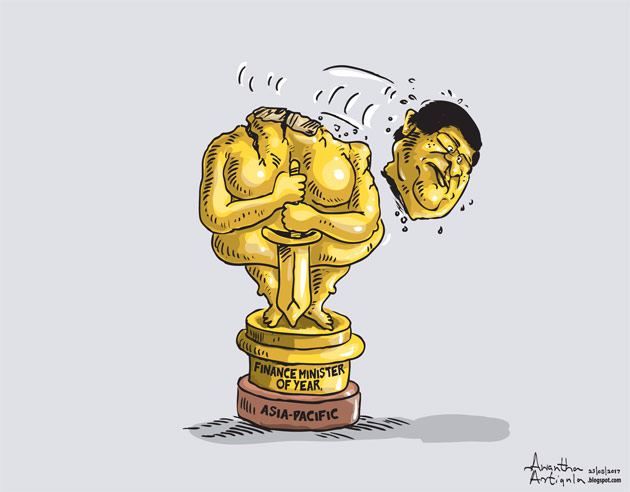 May 22, 2017
The discussion for a Cabinet reshuffle dragged on for months. The much discussed Cabinet reshuffle happened today at the President House. The Sri Lanka Freedom Party faction of the Government continuously emphasized on a Cabinet reshuffle while the United National Party faction resisted to the idea.
As preliminary discussions unraveled, the Cabinet reshuffle was to increase the efficiency of the Government by removing the non-performers. Yet what happened eventually does not show such a result. After so much of talks and visions the Cabinet reshuffle was just another political show.
Ministerial positions were changed of a few number of ministers and another few were given new portfolios. Accordingly ministerial positions were changed of Ravi Karunanayake, Mangala Samaraweera, Gayantha Karunathilake, Chandima Weerakkody and Arjuna Ranatunga. Thilak Marapana, who was already removed from the Ministry of Law and Order, was given the Project Development Ministry. And a few others some more new ministries.
It is evident that the objective of the Cabinet reshuffle was nothing else but to remove Ravi Karunanayake from the Finance Minister post. If considering non-performers there are many other ministers that fall in to the category who need to be replaced immediately if there is a genuine need to uplift the efficiency of the Government. The change is more like a cover up.
Several officials in the Central Bank and the Finance Ministry attempted to strategically remove Minister Karunanayake from his post. These persons pressured the President in order to achieve their goal and this is what they wanted to make happen. It must be emphasized that these people belong to the very group that publicly campaigned to defeat President Maithripala Sirisena.
If they have sensed, by pressurizing President Sirisena is a way to get their ulterior motives achieved, it will create a highly unfavourable environment for the Good Governance. Former President Mahinda Rajapaksa, finally got defeated because he fell in to the influences of these sort of groups. When these external groups become effective influencers to the President it will create conducive environment allowing them to act according to their own whims and fancies. If this continues with the present Government, the future will not be so pleasant.
Upul Nishantha