Wednesday, April 19, 2017
Tensions high in Caracas following student's death after he was shot in the head near a clash between pro- and anti-government groups
Virginia López
in Caracas and
Jonathan Watts
in Rio de Janeiro-
Wednesday 19 April 2017
Venezuela braced for an outbreak of political violence on Wednesday as hundreds of thousands of anti-government demonstrators flooded on to the streets of Caracas for what the opposition billed the
"mother of all marches" against the government
.
Tensions – which have built up over several weeks of bloody protests – were ratcheted up after a student died having been shot in the head near a clash between pro- and anti-government groups.
Fears of bloodshed were stoked after President
Nicolás Maduro
put troops on the streets, supplied guns to sympathetic civil militias and called for a simultaneous rally of his supporters against what he said was a United States-backed coup.
Demonstrators build a barricade while clashing with riot police during the so-called 'mother of all marches' in Caracas, Venezuela, on Wednesday. Photograph: Carlos Garcia Rawlins/Reuters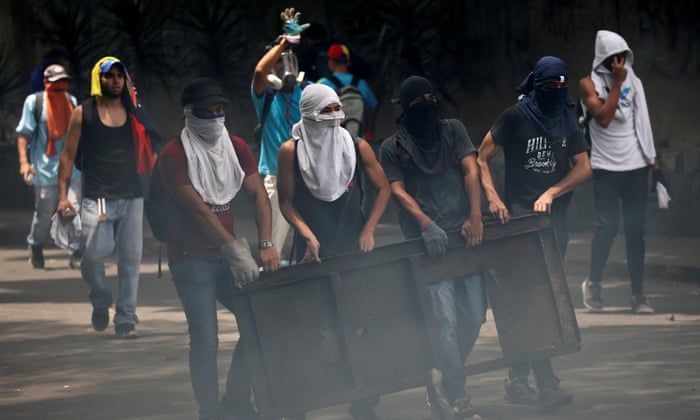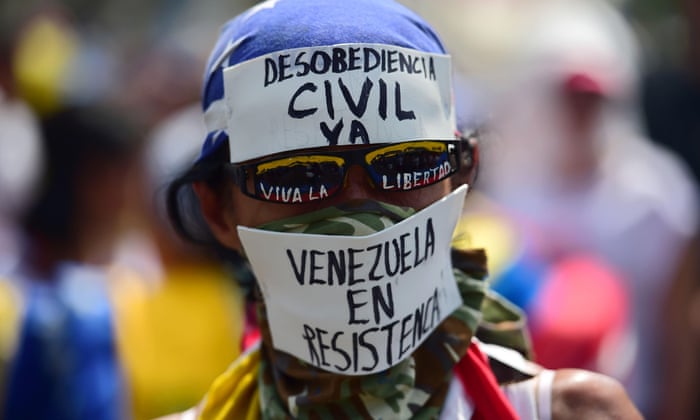 A demonstrator against Nicolás Maduro's government in Caracas on Wednesday. Photograph: Ronaldo Schemidt/AFP/Getty Images
State TV images showed thousands of red-shirted government loyalists on the rival march "to defend the homeland".
But their numbers were far exceeded by the vast throng that gathered in the Baruta district to express their anger and frustration at an administration that has led the country with the planet's biggest oil supplies into the
world's deepest economic recession.
Many targeted the Venezuelan president, who is blamed for high inflation and the chronic shortages of food, medicine and other basic goods. The chant "Esta es la ruta para salir del hijueputa" ("This is the way to oust the son of a bitch") echoed repeatedly around the downtown district.
The protesters came from all walks of life. Some said they had previously supported the government under Maduro's predecessor,
Hugo Chávez
, but the worsening economic and social crisis had made them march for change.
"We are desperate and tired of living in misery," said Kelvyn Cava, a former Chavista from the eastern state of Zulia. "With Chávez our salaries were worth something. Now, if hunger doesn't kill us, then crime will."
A group of Catholic clergy were also among the crowd, although the Vatican has tried to adopt a neutral position in hosting talks between the two sides.
"I came with several priests because we have reached the breaking point for this
regime of narcotraffickers
and terrorists. We need peace and to reconstruct this country," said Father José Palmar.
"We ask Pope Francis to do for
Venezuela
what Pope John Paul II did for Poland," he add, referring to the role that the Catholic church played in overthrowing communism in eastern Europe during the Soviet era.
Others said they were prepared for clashes with the security forces. "We have come today because we want freedom and a functional economy. It's paralysed," said Luis Machado, a money changer who was wearing gloves in case he had to pick up a gas canister and throw it back at the security forces.
Several recent demonstrations have ended in violence, with at least six deaths reported since the start of the month.
Wednesday's victim, Carlos Moreno, was not taking part in the demonstration but was shot when government supporters approached an opposition gathering and opened fire, witnesses told Reuters. Moreno was shot in the head, and later died in the hospital.
Eleven countries from the Organisation of American States have jointly called on all sides to remain peaceful and urged the government to call new elections.
This was echoed by the United States, which
issued a communique on Tuesday
warning that "those responsible for the criminal repression of peaceful democracy institutions and practices, and for gross violations of human rights, will be held individually accountable for their actions by the Venezuelan people and their institutions, as well as by the international community".
Maduro responded in a live televised address on Tuesday night in which he claimed, "The US government, the state department, have given the green light, the approval for a coup process to intervene in Venezuela."
He then signed a decree to mobilise the military to defend internal order. The government has also tried to reduce the size of protests by cutting subway services and setting up highway roadblocks.
For seasoned observers of Venezuelan politics, this may sound familiar. In the 18 years since the late Hugo Chávez, and his successor Maduro assumed power, Venezuelans have grown accustomed to giant rallies for and against the government. Several have turned violent, but none have spurred significant change. Although the opposition seized control of Congress in the 2015 election, they are divided and have failed to galvanise popular discontent.
But there are differences from the past. The economy is deteriorating, with the IMF predicting this week that Venezuelan unemployment will surpass 25% this year as the country suffers a third year of recession. There is also less regional support for Maduro following the rightward shift of governments in Argentina and Brazil.
The mood is becoming more confrontational.
Whereas in previous marches people wore white shirts and baseball caps with Venezuela's tricolor flag, this time protesters on the frontline hid their identity behind masks and hoodies. Banners and flags have given way to slingshots and rocks.
Even Maduro was recently pelted with objects in the eastern city of San Félix, traditionally a bastion of government support.
Shortages of food, medicine and other basics have eroded support for the government in poor neighbourhoods. According to the Observatory of Social Conflict, there were close to 5,000 incidents of protests in 2016 – 15% more than in the previous year.
"This is no longer people chanting and taking selfies. People are indignant – and they are resolute," Capriles said.