Sunday, April 30, 2017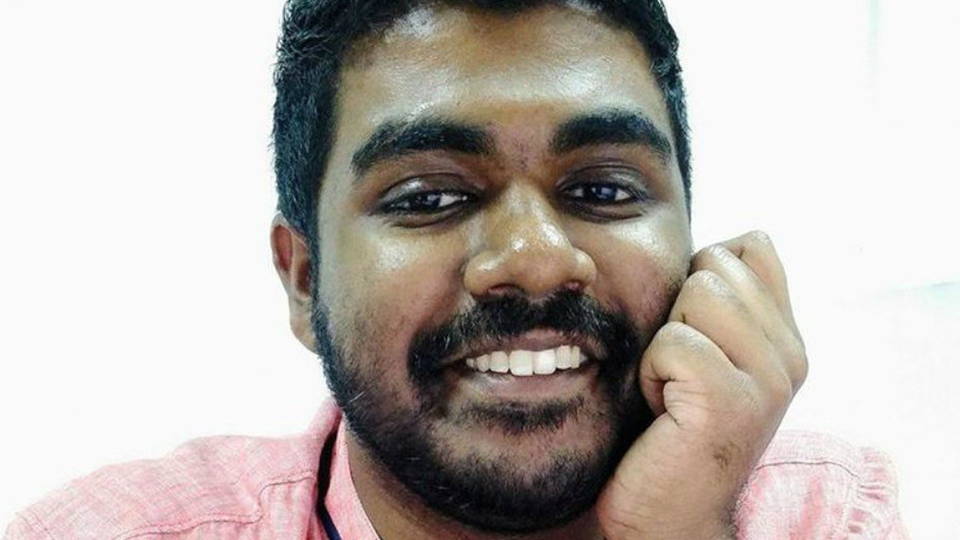 RAISA WICKREMATUNGE on 04/29/2017
Even as a child, Yameen Rasheed was an avid reader who had his own opinions, his father Hussain says.
A self-described "disobedient writer" Yameen was writing by the time he was in college. "He was friendly. He was not affiliated to any political parties or any gangs. He only independently wrote his own ideas," his father said.
Yameen was murdered for this very outspokenness.
On April 23, Yameen, was stabbed
16 times
in the stairwell of his apartment at around 3 am. He was rushed to the Indira Gandhi Memorial Hospital in Malé but succumbed to his injuries at 3:48 am, according to family and friends.
Yameen received numerous death threats that were never investigated, according to his father. "My son never informed me about the death threats he was getting, which dated from around 2014. I think he was afraid of worrying me because of my heart condition."
However, Yameen had shared his concerns with media, local NGOs and the police, Hussain said. He has a copy of a police complaint made on December 22, 2016, about the numerous threats he was receiving. "No action was taken up until the date of his death. I find no reason for that," his father said, forcefully.
Yameen did not grow up in the Maldives – in fact, the Rasheed family moved to Trivandurum, India, when he was just 2 years old. He graduated in Bangalore with a degree in Computer Science and moved back to the Maldives in 2010 to work.
However, it was his satirical blog, "
The Daily Panic
", which drew attention.
According to Hussain, the death threats were issued 'in the name of Islam'. "I wouldn't say Yameen was irreligious. However, he didn't like the radical acts certain groups were committing," said his father.
Yameen took care not to talk politics with his family, but his father would sometimes read his posts.
"I am proud of my son for his endeavours. I too, would like to see justice and democracy for everyone. I supported him in that," Hussain said.
For Hussain, the loss is still fresh. He paused often as he spoke, fighting back emotion.
He is very clear on one point – he wishes to see justice done in the case of his son.
Yameen was an active campaigner when his close friend, Ahmed Rilwan, was
abducted
in August 2014. In fact, he is the Coordinator of the "
Find Moyameeha
" campaign and was described as "
fiercely committed
" to the cause. To date, there has been no progress on Rilwan's case. Two years before, in October 2012, former Member of Parliament Afrasheem Ali, a reformist religious scholar, was killed. "So far, there has been no progress in these cases. I don't want this to happen to my son. I want justice for him and the other cases," Hussain said.
Hussain's impassioned plea for justice for his son has chilling resonance in Sri Lanka as well. The Committee to Protect Journalists says
19 journalists
have been killed in Sri Lanka in the pursuit of their work. Journalists for Democracy in Sri Lanka, whose figures include media workers, puts the number much higher, at around
43
. To date, none of the culprits in these cases have been apprehended. CPJ has recorded
numerous incidents
of assault, arbitrary arrest and death threats issued against Maldivian journalists.
Hussain has called for
international intervention
as he wants to see an independent, impartial investigation into his son's death.
In July 2009, while working at the
Sunday Leader
, I had the opportunity to
interview
Maldivian President Mohamed Nasheed's political advisor, Hassan Afeef.
At the time, he told me that Nasheed was well on its way to steering the country towards prosperity, nine months after his election. However it was his comments on drug trafficking that were particularly revealing. "We are not trying to eliminate the problem, because it can't be completely stopped," he told me, adding that two of the six 'known' drug traffickers were behind bars following Nasheed's election. He said this was progress compared to the previous regime, which had allowed corruption to run rampant.
Three years later, I visited the Maldives in May 2012 as part of a study tour on the
issues faced by migrant workers
. During the tour, I came upon Nasheed, quite by chance, holding a street rally. Nasheed had been ousted from power just three months before, in February, after a wave of protests from supporters of former President Maumoon Abdul Gayoom, which began after Nasheed
ordered the arrest of a criminal court judge
, thought to be an associate of Gayoom's, on corruption charges. Nasheed elected to step down as President. At the time, Vice President Muhammad Waheed Hassan was sworn in as head of state. (The current President, Abdulla Yameen, was eventually
elected in November 2013
.)
There was a tightly packed crowd of around 50 people or so, hanging onto Nasheed's every word. I took out my phone and began to take pictures of the rally when I was accosted by the police. Although several of the rally participants were openly taking pictures and filming, the police questioned me intensively as I was a foreigner. They asked me to leave and also attempted to make me delete the pictures I had taken – this despite the fact that they didn't know that I was a journalist. This incident is illustrative of the tension prevalent in Malé at the time, particularly to outsiders, as it adjusted to the transition after Nasheed's abrupt exit from power.
This political turmoil is not the only force at play. As a friend of Yameen's wrote, a relatively new phenomenon is the emergence of
religious extremist groups
, members of which have also reportedly flown to Syria to join the civil war there. These groups openly advocate for violence in the name of religion, he writes.
Yameen's writing could have angered either of these forces, with his witty, deliberately irreverent style. He delivered weekly 'news roundups' which satirised headlines.
"Commissioner of Police,

Hussain Waheed Three

, said in a statement that "The Maldives Police Service is now the best Police force in the region. We are truly dumbstruck by our own brilliance."

In celebration of the great recognition that it has awarded itself, the Police Commissioner announced another round of mass promotions and a flat for each Police Officer who can count to three…

The Daily Panic's

Senior Statistics Correspondent pointed out that the Maldives Police Service have an astounding near 100% failure record when it comes to solving serious crimes – including continued

failure to locate abducted journalist Ahmed Rilwan

, and over thirty unsolved murders and even more stabbings in recent years," he writes.
In another popular
post
, he lampoons a news article on 'controversy' around a textbook that contained pictures of a church.
"Stop the presses! A picture of a church?! In a textbook informing students about major world religions?! At a school, no less?! Outrageous!" Yameen writes.
In a
video
, he discusses a proposed ban on the niqab. "I think the niqab is an exclusionary garment… But I don't think the solution is to exclude [a woman who wears niqab]" he says.
The news of Yameen's death drew widespread
condemnation
, including from the Government. "We will deliver justice for the sake of Yameen's family, his friends, his community and his entire nation," President Yameen said in a
statement
.
It remains to be seen whether he will deliver on that promise.