Saturday, April 8, 2017
'May lightning strike these doctors who are vultures ' parents weep and wail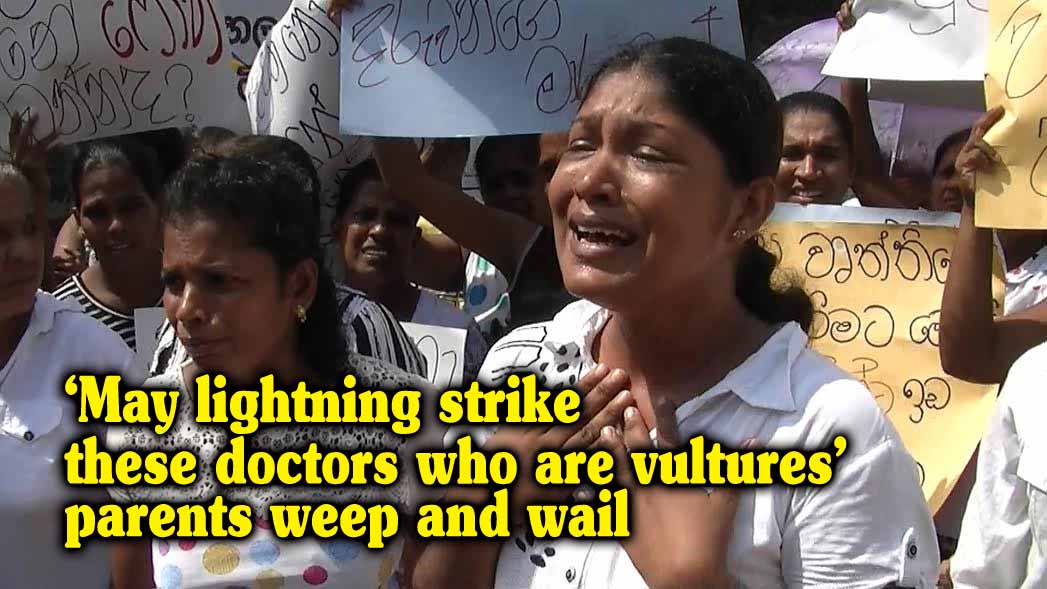 (Lanka-e-News -08.April.2017, 1.45PM) A three and half years old child who was admitted with fever to Matara hospital died because no medical treatment was administered to the child for three long hours . A chief doctor of so called 'superior standard' at the government hospital had been idly watching the suffering child from afar and has gone to attend to his private channeling practice neglecting the child. Later , the child had died after getting a convulsive fit.
'May lightning strike these ruthless doctors who killed my child'
'The chief doctor did not even touch my child let alone examine'
'Such doctors who are enslaved by filthy lucre are of no use ' the parents of the child scream while weeping and wailing hitting their chests and ground.

Chethuja Dilen Siththaru residing at Hittetiya , Matara was the child admitted to the Matara General hospital on 2nd April . Despite the child having fever , no medicine was administered to the child for over 3 hours within the hospital !
Later because a wrong injection was administered to the child , and the latter died , the parents of the victim and residents staged a protest on the 6th blocking the main gate of the hospital from 9.00 a.m. until about 12.30 p.m. demanding that the Matara hospital officials shall be brought before the law and duly punished.
The government chief medical officer of the ward , of the so called 'superior standard' doctor mafia had been idly watching the critically sick child from afar like a ghoul waiting for its prey to die to rob and plunder, and then gone to conduct his private practice most uncaringly. Despite the junior doctors giving countless calls to him , he had only come after finishing his private channeling , the protestors charged. The judicial medical officer who did the post mortem declared the child died due to a wrong injection being administered to the child when she turned for the worse.

The ruthless inhuman doctors had to enter and leave the hospital on the sly using the rear door like stealing stray dogs which pick up discarded bones and flee, owing to the massive public protest .

Indunil Kelum Jayaweera, Lanka e news video reporter ,Matara made tremendous efforts to communicate with the Matara hospital director Malkanthi Mediwaka to learn of the situation , but without avail.

It is a well and widely known fact , the country is being plagued by problems created by these demonic , heartless and devilish government doctors , and patients are being held to ransom by the same two legged beasts of doctors . Yet , it is the same ruthless demonic doctors of the GMOA mafia and JVP affiliated Samastha Lanka medical officers who are claiming the so called 'superior standard' doctors are in government hospitals , and the Institutions providing private medical education should be closed . What a cruel irony !
Video report – Indunil Kelum Jayaweera , Matara
Translated by Jeff
---------------------------
by (2017-04-08 08:38:15)