Friday, April 21, 2017
Men disguised themselves as army personnel and passed first security gate before one blew himself up at second gate and another attacked dining facility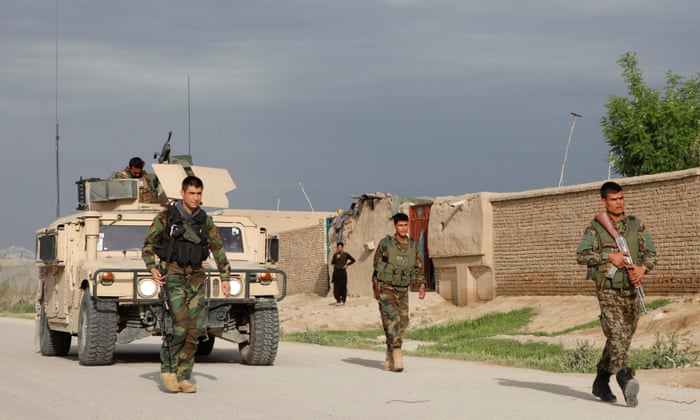 Afghan national army troops arrive near the site of an ongoing attack on an army headquarters in Mazar-i-Sharif in northern Afghanistan on Friday. Photograph: Anil Usyan/Reuters
More than 50 Afghan soldiers have been after killed Taliban suicide attackers disguised as army personnel targeted a national army base in northern
Afghanistan
, in the worst single attack on the country's security forces in recent years.
According to Zulmay Wesa, commander of 209th corps in Balkh province, a group of suicide attackers manning at least two Afghan national army vehicles managed to pass the first security gate on Friday afternoon.
When they were stopped at the second gate, one of the attackers blew himself up, and the rest entered the base, Wesa said. They went straight to the mosque where ANA soldiers were praying, and opened fire.
"After prayer we went outside and saw an army vehicle with three to five people in. They came out and opened fire with Kalashnikovs," said a bodyguard at the base, asking not to be named.
Elsewhere on the base, at least one attacker went on a shooting rampage in a dining facility, according to an American security official. He also confirmed that "probably more than 50" had been killed in the attack.
The
US military
confirmed that coalition personnel were present at the Mazar-i-Sharif base, but there were no reports of casualties.
In a statement, the US military in
Afghanistan
condemned the attack.
"The attack on the 209th Corps today shows the barbaric nature of the
Taliban
. They killed soldiers at prayer in a mosque and others in a dining facility," US commander John Nicholson said in the statement.
Mazar-i-Sharif is one of Afghanistan's safest cities but home to large military facilities, which also house some foreign troops.
In November, the German consulate in the city came under attack when a truck strapped with explosives rammed into the compound, killing six and injuring over 120, all Afghans.
Donald Trump said little about Afghanistan during his election campaign but is currently conducting a policy review toward America's longest war.
His national security adviser, army Lt Gen HR McMaster, himself an Afghanistan war veteran, visited the country last weekend and met with President Ashraf Ghani.
In January, Nicholson requested thousands more US troops to aid the Afghan security forces, which suffered more than 6,785 deaths and more than 10,000 injured in 2016.
The commander called the high levels of casualties a "major concern" and attributed them to poor leadership and an overreliance on static checkpoints.