Sunday, April 9, 2017
-Wife spills the beans !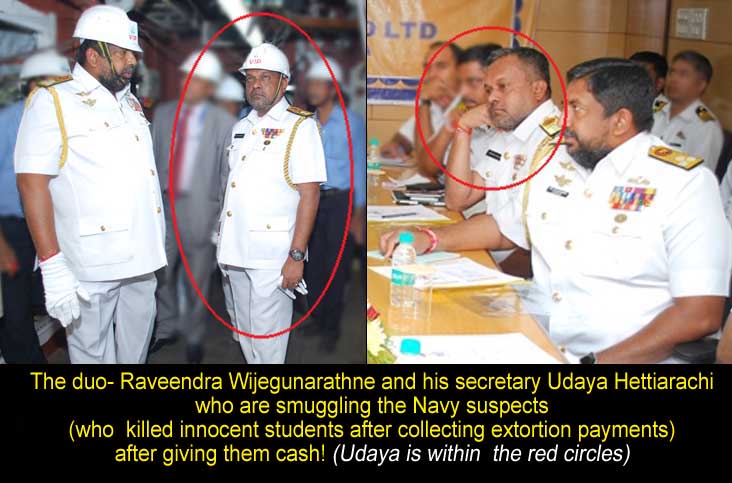 (Lanka-e-News -09.April.2017, 5.45AM)
Following the Lanka e news report on the 4 th which raised serious questions in relation to the activities of the Navy Commander , answers to those questions have been found according to reports supported by evidence reaching Lanka e news inside information division . The answer is , the Navy Commander is indeed smuggling Navy criminals out of the country after providing them with cash from Navy funds.
Evidence have surfaced that the Navy Lieutenant Commander Hettiarachi whose name was lately revealed during the CID investigations was involved in the criminal white van murder squad operations of the Navy during the most nefarious corrupt ,crooked, criminal decade and the gruesome mass murder of innocent children after committing extortion . However there is now testimony which bears out this criminal Hettiarachi is being kept hidden without being handed over to the CID . Moreover , after telling all the lies in a cover up operation , he is to be smuggled out of the country.
Hettiarachi is being kept hidden in room 30 , 3 rd floor of the navy headquarters . All instructions in this connection have been issued by present Navy Commander Ravindra Wjegunarathne and it is his secretary Rear admiral Udaya Hettiarachi alias 'Hettiarachige Udaya Deshapriyam Hettiarachchi' who had carried out the instructions . This Rear admiral is the director of budget and finance , in the navy. According to reports this rear admiral Hettiarachi has given Rs. 500,000.00 to lieutenant commander Hettiarachi and made him flee. (We request our viewers not to get confused because both names are unfortunately Hettiarachi).
This came to light first based on a voice tape of Gothami the wife of Rear admiral Udaya when she was bragging to a friend of hers. When Lanka e news inside information division probed into it , all the hidden information seeped out…

The sum of Rs. 500,000.00 that was given to the criminal was from Navy funds meaning those are public funds.
The CID requested the Navy commander to produce Lieutenant Commander who is identified as the latest 'mastermind' responsible for the crimes , the Navy commander on the other hand had been profusely lying saying ' he has gone on leave' and 'he has gone on retirement', when the factual position is , throughout that period the suspect had been kept hidden in the Navy headquarters itself. The beans were spilled by the wife herself of the Lieutenant Commander the suspect , and by now this truth has been confirmed.
No matter what , the search is on whether the criminal is being kept hidden elsewhere while the rumor is he had been smuggled out of the country .
Harboring , hiding or giving protection to a criminal is tantamount to committing the offence itself under the law.
(In the photograph are Navy secretary cum Director finance Rear admiral Udaya Hettiarachi who gave Rs. 500,000.00 and helped to smuggle the criminal out of the country , and the Navy Commander )
---------------------------
by (2017-04-09 00:20:02)