Saturday, April 15, 2017
Dozens killed as suicide bomber uses aid supply vehicle to target busloads of people waiting for evacuation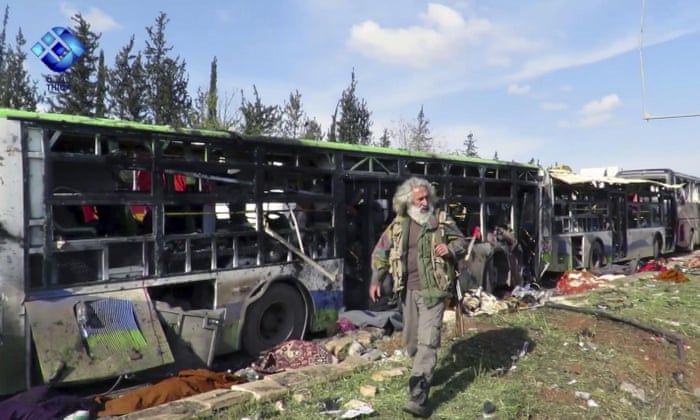 A screengrab from video provided by the Thiqa news agency shows the aftermath of the attack. Photograph: AP
A suicide car bomber has killed and injured dozens of people and fractured a
complex deal to evacuate four besieged towns
in Syria, leaving thousands of people trapped in limbo.
The bomber targeted buses full of evacuees from government-held towns as they waited in a rebel-held area on the outskirts of
Aleppo
. He drove his explosives up to their vehicles in a van meant to carry aid supplies.
Syrian TV put the toll at 39, while the UK-based Syrian Observatory for Human Rights, a monitoring organisation, said at least 43 people had been killed and that the toll was expected to rise.
Images from the scene showed bodies on the ground around blackened vehicles, as thick smoke rose into the air. A senior rebel official said about 20 fighters guarding the buses had been killed, along with people inside.
Residents of rebel-held towns waiting in buses in government territory said they were terrified they could face reprisal attacks.
They appealed to international organisations including the UN for security guarantees, asking them to "provide the necessary protection to reach our final destinations".
Several hours after the explosion, the Lebanese TV channel al-Manar, which is close to the Syrian government, showed new buses arriving to replace those damaged, as reports suggested the stalled exchange would soon restart.
Activists in opposition-held areas said they were waiting for confirmation that buses were on the move again. Both groups of evacuees, effectively being held as hostages, are just a short drive from their destinations.
About 7,000 people and fighters were being evacuated this weekend in a complex humanitarian deal that took months to agree.
Under it, 5,000 people were offered safe passage from the government-held towns of Foua and Kefriya, which are surrounded by rebels, and 2,000 left the rebel-held towns of
Madaya
and Zabadani near Damascus, which are besieged by government forces.
Both groups became stranded outside Aleppo, however, after the deal stalled and the two sides started wrangling over the number of fighters to be evacuated.
Ahmed Afandar, a resident evacuated from his home near Madaya, said: "The people are restless and the situation is disastrous. All these thousands of people are stuck in less than half a kilometre."
The evacuees from Madaya were expected to head to rebel-held Idlib, 30 miles south-west of Aleppo.