Saturday, March 25, 2017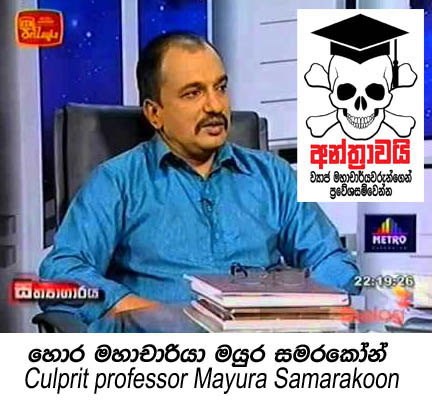 (Lanka-e-News -25.March.2017, 3.00 PM) Shockingly , Mayura Samarakoon of the social science faculty of Sri Jayawardenapura University was awarded the post of professor based on the robbed books published by him. Indeed Lanka e news which espouses the cause of truth come what may revealed this villainy and robbery with evidence some time ago, while some other media too reported this shameless action.
Mayura the maara hora (nocturnal rogue) had even secured the M.A. degree by robbing the independent thesis written by another student. Ironically , University administration without taking any action against it , had instead appointed this accomplished thief as the chief (chairman ) of the examination irregularities board . This is like handing over the coop with fowls to the wolf.
Even the COPE committee that met recently has recommended the University to probe into this thief the chief Mayura 's planned robbery. Despite this , the University administration had permitted Mayura to use the escape route.
The members appointed to the committee to investigate Mayura's robbery were Thanthrigoda the professor of Physics faculty , and Deheregoda the professor of the faculty of Geography.
Unfortunately , Deheregoda happens to be a bosom pal of the maara hora Mayura . Hence a neutral group linked to the University bemoaned , both the Godas –Thanthrigoda and Deheregoda must have got together and put Mayura mithura (friend) the maara hora .. goda (out of danger).
---------------------------
by (2017-03-25 09:30:57)